/410 Low Emission & Odour Acid-Catalyst Lacquer
Ultra-fast drying Acid-Catalyst lacquer with reduced emission and odour levels during drying and curing, designed to assist early handling and production throughput. It is suitable for coat-on-coat application by manual or automatic spray application.
This lower emissions variant of our popular Acid-Catalyst lacquers provides the same high resistance to abrasion, wet and dry heat, spirit solutions and a wide range of household chemicals.
Pack sizes: 5L & 25L
Catalysis: 9 parts lacquer : 1 part catalyst by volume
Pot life: 36 hours
Touch dry: 10 - 15 minutes
Sandable: 45 minutes @ 18°C
Recoatable: 1 hour @ 18°C
Packing: Overnight minimum dependent on conditions
Coverage: 40m² per 5 litres dependent upon the size, orientation and surface quality of the item being coated
Tinting: After catalysis, Morrells Light Fast Stains up to a maximum of 5% by volume
Typical finish: 1 - 3 coats at 75g/m² per coat, coat on coat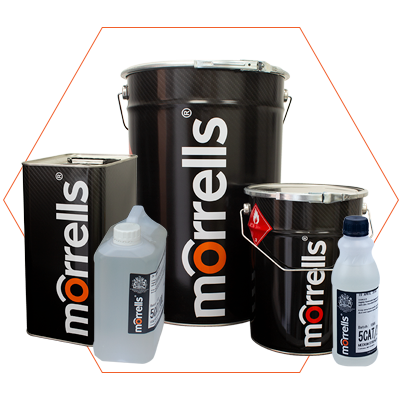 Product Codes
| | |
| --- | --- |
| 5903/410 | 90% sheen |
| 5403/410 | 40% sheen |
| 5303/410 | 30% sheen |
| 5203/410 | 20% sheen |
| 5103/410 | 10% sheen |
| 5CAT/100 | Catalyst |
| 2007/900 | Thinners |
MSDS